How to configure Rockend to send your rental listings to HousetoRent
To setup HousesToRent as an advertising service in Rockend:
Register on HousesToRent from this page http://www.housestorent.co.nz/Members/Register

Contact illion Tenancy by Email or Ph 0800836268, before carrying out your first upload of listings. Ask to be assigned a username and password for the HousesToRent FTP upload site. This may be different from your illion Tenancy login.

In HousesToRent website add agents that are in your REST software as follows:

Login to HousesToRent website www.housestorent.co.nz
Go to "Listing Agents" under the "Landlord" menu
Click on "Add Listing agent".
Complete the form. Use the "Agent ID" which is assigned in your REST software as 'ImportID". Make sure there is a unique id for each listing agent in the 'Agents' screen in REST. You can use your REST login names to keep things simple.


In REST Select Other > Utilities > Company Details.

Go to the Advertising Tab.

Click Configure / View.

On the Advertising Service Configuration screen, click Add.

Select an available User Defined option.

Enter the Service Name housestorent

Enter the Login Name (Provided by HousestoRent)

Enter the Password (Provided by HousestoRent)

Enter the FTP Address housestorent.co.nz.

Select the Export Format realestate.co.nz.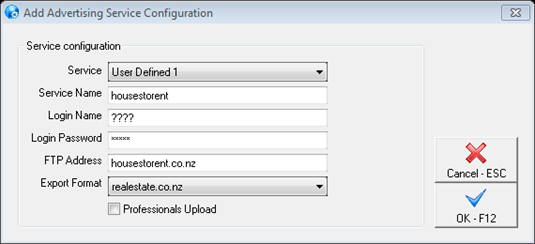 13. Click OK, Close and then OK – F12, to save the HousestoRent as a new Advertising Service.